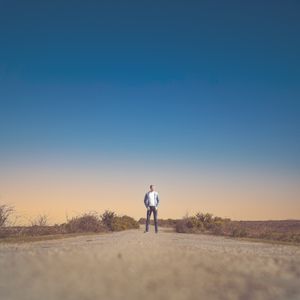 Biography
James Millier is a English music artist from Barton on Sea, Hampshire. His passion for music happened at a very young age thanks to his family however in his teenage years he made the decision to be wise by studying his first passion in food and lead a life working in the catering industry. During his mid-twenties his love for music became stronger than ever and as fate would have it a love one gave him some singing lessons as a Christmas present where 13 years later to this day, he is still having lessons with the same singing teacher. 
Due to his spark being ignited for music, James has been lucky enough over time to learn a few new languages in Welsh and Italian plus he had the opportunities to travel abroad to places like France and Ireland as well as becoming part of a Welsh choir called The Phoenix. However, it was the mark of turning thirty he took the giant leap by releasing solo music under his real name James Baldwin in 2014 but by 2018 his music was evolving and he thought it was a suitable time to go back to his roots by changing his music artist surname to Millier which is taken from his mother side of the family. 
Since his surname has been changed to Millier, James' music has been streamed over 150,000 times on Spotify and he also became founder of a Christmas charity single which featured in the official UK top 100 download charts. 
​ 
Fast forward to 2022, James has come full circle and feels he found his sound with his upcoming single "True to Yourself" coming out Friday 13th May plus lots of song releases in the pipeline for 2022 which will feature on this year EP.